Serving the communities of Hook, Odiham, Hartley Wintney and the surrounding villages since 1987. Registered Charity Number 1176812
DUCK RACE. A SUPERB DAY
We arrived at the Crooked Billet, to set up for our Annual Duck Race, on a warm and sunny morning. By 12:30 we were able to begin the first heat, and in all we ran 9 heats. Our thanks go to the local businessís who kindly sponsored them. All went well and the new finishing gate, made by our President Terry, made the judges decisions very easy to make. At the end of the day we were able to tell Fiona from Victoriaís Promise that we would be giving them £1500.
The lucky winners were First, Mrs Watson from Hartlepool, Second, Rodri Evans from Bristol and third, Jacob Beacon from Popley.
Our very grateful thanks, once again, go to Richard and Sally Sanders from the Crooked Billet who kindly allowed us to run the event in their garden.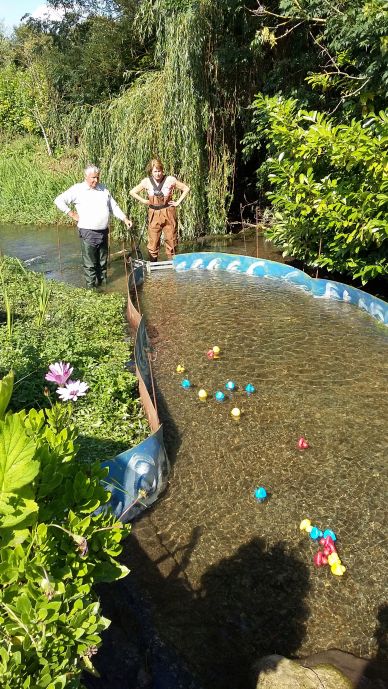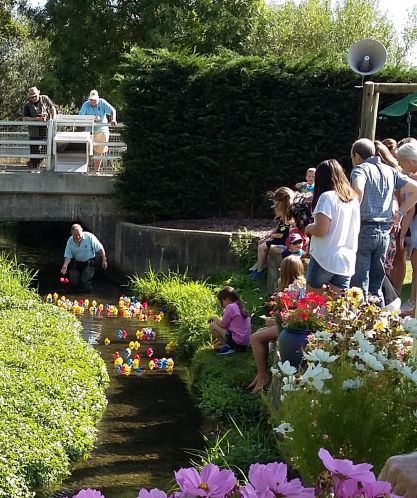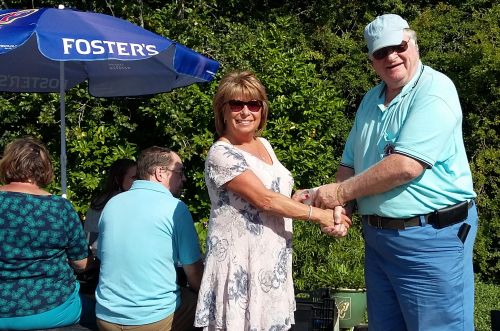 Lion President Terry presenting the cheque to Victorias Promise Charity.
SPOOKTACULA. SPOOKY HAPPENINGS IN ODIHAM
SATURDAY 27TH OCTOBER will see the 4th Spooktacula (our unique combination of Halloween and Fireworks) event take place at Beacon Field (RG291NE) in Odiham.
The gates will open at 5:00 pm and the evening will feature a fancy dress competition for the children (ages 4-12 years) and a spectacular firework display.
Look out for the posters to give event timings.
Everyone is invited to dress up in suitable costume and once again that Wicked Witch of Warnborough will organise the children's competition. There will be prizes for the very best costumes. There will also be German Hot Dogs, Candy Floss, Sweets, Mulled Wine, Soft Drinks, Coffee plus Sparkly Things and Children's Rides ... and maybe more especially things for the children??? Tickets will cost; Adults - £6 in advance or £8 at the gate.
Children (ages 3 -15) - £ 4 in advance or £5 at the gate (under 3 free)
Family tickets - (2 Adults & 2 Children) £15 in advance or £20 at the gate.
Advance tickets for sale at the Fountains Coffee Shop and P & K Electrical & Hardware, both in Odiham and Trees in Hook.
Please don't bring any alcohol or fireworks, including sparklers onto the field, because the Phantom Safety Elves may jump out at you!
Oooo! ... Dare YOU come???
As ever, if you would like to join us please contact us via the website or Lions phone.
Lion Judith Goodchild Lion Phone 07817 886 002 www.hookandodihamlions.co.uk find us on facebook