Serving the communities of Hook, Odiham, Hartley Wintney and the surrounding villages since 1987.
Hook and Odiham Lions take up the challenge!
Late last year Hook Parish Council invited the Hook and Odiham Lions Club to run the 2018 Hook Festival. Run by the Council in 2017 the festival had been a rather soggy event held in September! In January the Club decided that it could and would run THE HOOK VILLAGE SHOW on Sunday 15 July and fought off eventual competition from the World Cup and Wimbledon!
Lion Terry Cheeseman was chairman of the event and, supported by especially Lions Graham Botwright and Peter Ingamells, worked tirelessly getting stalls and attractions to participate. Since the Club could not charge for admission, programmes were sold in advance from door to door in the July heat wave!
Eventually 15 July dawned – a very hot day. Would the crowds turn out?
Local MP Ranil Jayawardena, who had grown up in Hook, opened the event. The arena events highlighted various entertainments and there were around 100 entries from classic vehicles to fairground rides, donkeys to doughnut stalls, a food court, face painting and fairy land stalls plus many charity and commercial stalls. In addition, in the Community Hall, there was a Craft and Produce Fair which also attracted visitors.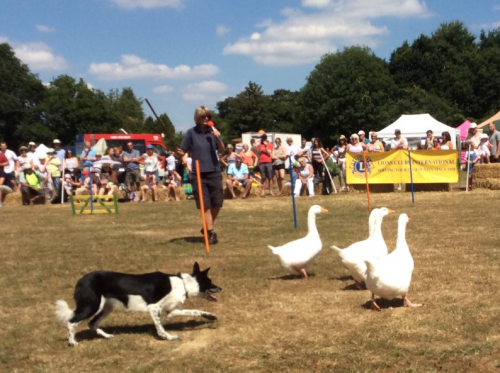 Flight, the sheepdog tries his paw at herding geese at the Hook Village Show!
By the end of the afternoon it was clear it had been a very successful event. Not bad for a Club with just 12 members! Every Lion had played his or her part. Thanks go to the Club's partners, friends, Hook Parish Council and Odiham and Hook Rotary who all assisted. Many thanks and tributes for the way in which the show was organised were received. Now what about next year?
Victoria's Promise Fun Day
On Saturday 18 August Lions were at this event in Hook, selling our Duck Race tickets in support of this charity.
Thank you for buying tickets as all profits from our Duck Race are going to Victorias Promise.
See you on 1 September.