LOCAL HELP INFORMATION
SEE THE DE - FIBRILLATOR WE HAVE PLACED IN THE CENTRE OF HOOK. WE ALSO MAKE MANY OTHER DONATIONS, LARGE AND SMALL,
TO HELP LOCAL PEOPLE.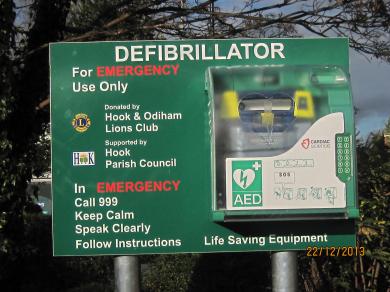 PLEASE SEE THIS LINK FOR INFORMATION AS TO HOW YOUR DONATIONS ARE SPENT LINK
SEE LINK FOR DETAILS OF OUR EVENTS
---
Village Agents are now in place for Odiham, North Warnborough, Hook , Rotherwick,Mattingley & Heckfield.
Odiham & North Warnborough contacts Valerie & Sarah on 07543 294 703 and e mail
Hook Jan Murray 01256 761 899 07843853 006
odihamva@ageconcernhampshire.org.uk
See the LINK for Hampshire information
---
Local Service Adviser. See LINK for further information.
This Care Co-ordination service offers advice and information on a range of services and support for daily living in your community. If you or someone you know is looking for advice or even just a chat about what support is available, please do call Lucy on 07793758809 or email her on local.service.advisor@hants.gov.uk to make an appointment.
Due to the success, the Local Service Advisor pilot has been extended from the end of March to 7th June 2013.
(Information regarding the service provided below.) Kind regards
Lucy Redknap
Local Service Advisor
Hampshire County Council
I am the Local Services Advisor working in partnership with Southern Health NHS Foundation Trust and Hampshire County Council Adult Services. Currently a pilot, which could be extended across the County.

•We are aiming to reach residents before they get to the critical stage and help them manage themselves to remain independent.
Examples of the type of services I can discuss/advise are:
Social care OT
Care management assessments (including carers assessment)
Advice on gardening, shopping, cooking cleaning and meals and everyday tasks
Disabled parking badges (Blue Badge)
Disability registration
Transport
Completing benefits forms (if they want advice on benefits they will have to contact CAB)
Sensory services
All urgent referrals or adult protection concerns are to be made through Hantsdirect

0845 603 5630

Please make all referral's by phone, electronic, email or face to face. The patient can contact me themselves through the same contacts.

Contact Details
Email - local.service.advisor@hants.gov.uk
Telephone - 07793758809
I am available Monday to Friday

If you have any questions or would like to meet me please send me a email or phone me on 07793758809